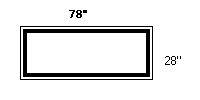 Tier III Granite Countertop 78" x 28" Island


28" X 78" Island Section.
Granite slab with four sides double-bullnosed (two long sides and two short sides). Dimensions include 1.5 " of bullnose so that maximum width of cabinet or support can only be 25" inches and maximum length can only be 75 inches.