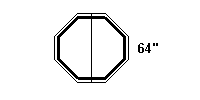 Giallo Fiorito Granite Countertop 64" x 64" Octogonal Island


64" X 64" Octogonal Island Section in two pieces with 24" turntable
Granite slab with four sides double-bullnosed (two long sides and two short sides). Dimensions include 1.5 " of bullnose so that maximum width of cabinet can only be 61 inches and maximum length can only be 61 inches. Eight sided in two sections. Add to your BBQ island as a peninsula or raise it.