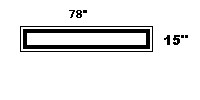 Tier III Granite Countertop 78" x 15" Snack Bar


15" X 78" Island Section.
Granite slab with four sides double-bullnosed (two long sides and two short sides). Dimensions include 1.5 " of bullnose so that maximum width of cabinet or support can only be 12 inches and maximum length can only be 75 inches.
By cutting this island in half lengthwise, You can make two windowsills.